A Place to Stay
It is appropriate that one of Washington State's most beautiful getaways has a stunning selection of beautiful lodging options. Orcas Island is well equipped for hosting visitors with daily, weekly, and even monthly plans in mind. With great accommodations catering to a broad variety of budgets and preferences, tourists can find venues with just the right theme, environment, and location to fit their itinerary.
Luxury resorts and Bed & Breakfast accommodations are complemented by the numerous inns, resorts, cottages and vacation rentals available all across the island. Many of these options are advantageously located, offering gorgeous views of the surrounding hills and water, or providing the perfect basecamp for visiting Moran State Park or touring the farming communities in Crow Valley. All accommodation options are open in season and many seasonal venues can be rented for special events outside of normal operating months.
---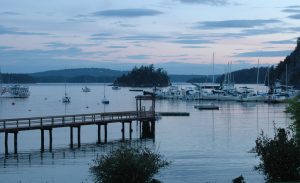 Your personal guide to beautiful Deer Harbor on Orcas Island.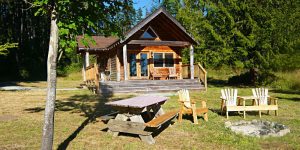 West Beach Resort is located on the sunny and pristine west side of Orcas Island, Washington. We are a private destination resort specializing in providing guests with an authentic San Juan Islands getaway. We have been an Orcas Island lodging and hotel destination since 1938. Stay in our fully-equipped beachfront cabins & cottages on our world class walk-out, west-facing, sand/pebble beach and watch the sunset as you relive the day's adventures from your private beach fire pit.
Call 877-937-8224, Eastsound, Orcas Island
At Smuggler's Villa Resort you'll savor the natural beauty and relaxed pace of the San Juan Islands. Located on the north shore of Orcas Island, our villas face the most breathtaking sunsets in the Northwest. Our large, comfy condo's are perfect for families and groups, with two bedrooms, full bath (larger units have additional twin beds and half-bath), fireplace, cable TV, kitchen and laundry. Sliders from living/dining area open onto your own spacious deck with lounge chairs, tables and benches to catch the afternoon sun and incredible view. There's so much to do here!
Call 360-376-2297
Take advantage of a unique opportunity to experience the life of the islands in the small sleepy village of Olga. Off the beaten tourist track, you can relax in the privacy of your own small cabin. Watch for eagles, herons, otters and passing ferries. Spend the afternoon on the pebble beach, collect beach glass, read a favorite book or just daydream. Walk to Orcas Island Artworks and meet island artisans in their cooperative gallery.
Call 360-376-2845
Lovely spa cottages with fireplaces and cozy log cabin lodge rooms with private bath. Several large vacation homes can accommodate large groups. Short walk to the beach and all marine activities.
Call 360-376-4110, Deer Harbor, Orcas Island
Your hosts, Jim & Betsy Nelson, offer several lovely vacation rental cottages with full kitchens on twelve private waterfront acres. All have access to a private beach well as stunning views of Mt. Baker, Rosario Strait, and the nearby islands.
Call 360-376-4330, Orcas Island
Come stay with us at Beach Haven Resort on Orcas Island!! Since 1939, Beach Haven Resort has welcomed guests seeking the rustic beauty and tranquility of Orcas Island. Our waterfront resort is bordered by one of the only remaining stands of old-growth forest on Orcas. It is home to many species of wildlife, including: bald eagles, deer, otters, various birds, and seals. Our lack of televisions, telephones, and internet access in the cabins ensure a distraction-free escape.
Call 360-376-2288
A wonderful spot for relaxing and small group gatherings, located in sunny Westsound with a spectacular view of Westsound. Walking distance to Westsound Marina, Kenmore Air Seaplane dock and Orcas Yacht Club dock. We offer 400 ft of beach and tidelands, kayaks, game room, swimming pool, hot tub, fire pit, and medicinal and ornamental gardens. Pick from our numerous fruit trees, fully equipped outdoor kitchen and so much more.
Call 360-376-8537, West Sound, Orcas Island