Restaurants
Restaurants are plentiful on Orcas Island and appeal to all kinds of tastes. Islanders pride themselves on the locally owned and operated businesses with diverse and carefully refined menus and cooking styles. Locations in Eastsound provide breakfast, lunch, and dinner options including pub dining, waterfront eateries, and Mexican food.
High class island dining can be found at the resort restaurants in Eastsound, Deer Harbor, and Rosario, with menu options including seafood and steak dinners. All resorts offer indoor dining, as well as in-season outdoor dining with waterfront views. Resorts and restaurants also make their spaces and services available for dinner parties and wedding receptions.
---
Guests who visit the New Leaf remark on two things consistently: the quality of the food and the caring service. Your experience is always at the forefront of our minds - the food must be good and we want you to feel taken care of, delighted, relaxed, welcomed. Breakfast hours: Friday & Monday 8:00AM - 11:00 AM Saturday & Sunday 8:00AM - 1:00PM Dinner Hours: Thursday - Monday 5:30PM -9:00PM Open until 9:30PM on Friday and Saturdays
Call 360-376-2200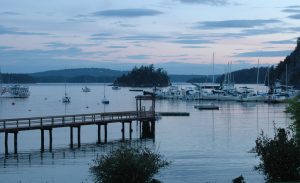 Your personal guide to beautiful Deer Harbor on Orcas Island.

Whether dining on the patio overlooking tranquil Deer Harbor and the stunning views of the Olympic Mountains, or inside the Historic building, the relaxed atmosphere at Matthew's Smokehouse provides a welcoming environment for all ages and group sizes. The Island Hospitality is served in generous portions.
Call 360-376-1040, Deer Harbor, Orcas Island
Asian food made with fresh local and organic ingredients in the preparation of each meal. Dining indoors - on the patio or to take out - catering available. Call for seasonal hours.
Call 360-376-6958, Eastsound, Orcas Island
Mijitas menu is inspired by the dishes of chef Raul's hometown in Mexico using local northwest ingredients. Made with love. We hope you will feel at home as you gather around delicious food, drink and great company!
Call 360-376-6722
We brew great quality beers!! using only the best ingredients. We love what we do and want to share with you a little bit of our passion for beer. Our brewery is located on beautiful Orcas Island, which serves not only as our home, but as an inspiration to our brewing mentality. Join us at the brewery to try a rotating selection of our beers in a comfortable adjoining tasting room.
Call 360-376-6079