Boats.
Boating has been a critical part of Orcas Island's life and prosperity ever since the first settlers arrived in the 19th century. Since that time marinas, public docks, and resorts have sprung up along the shores of Orcas providing easy access to the beautiful vistas of the Gem of the San Juan Islands. Many island residents own their own boats and several businesses offer their services for boat maintenance, repairs, and upgrading. Popular resorts provide their own docks and encourage visitors to come by cruise, charter boat, and seaplane for a fully immersive island experience. Servicing and restocking options for your boat are also in constant supply right at the marinas, or at the sporting goods stores in Eastsound.
The ride over to Orcas on the Washington State Ferry boats is a marvelous introduction for any visitors driving or biking to the islands, and there are plenty of marine opportunities for them to enjoy as well. Kayak rentals are available at several locations and sailing charters can be found at each of Orcas Island's town marinas. Whale watching tours depart almost daily during the prime seasons and come fully equipped with refreshments and experienced tour staff.
Check out our Boating and Marina pages for more marine options and come explore the San Juan Islands of Washington State today!
---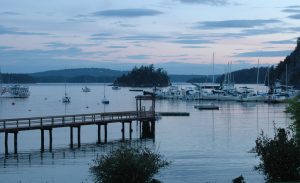 Your personal guide to beautiful Deer Harbor on Orcas Island.
Deer Harbor, Orcas Island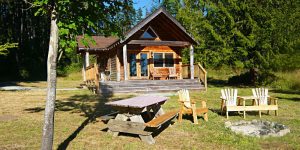 West Beach Resort is located on the sunny and pristine west side of Orcas Island, Washington. We are a private destination resort specializing in providing guests with an authentic San Juan Islands getaway. We have been an Orcas Island lodging and hotel destination since 1938. Stay in our fully-equipped beachfront cabins & cottages on our world class walk-out, west-facing, sand/pebble beach and watch the sunset as you relive the day's adventures from your private beach fire pit.
Call 877-937-8224, Eastsound, Orcas Island
Island Expeditions. Year round charters available. Join us aboard our new vessel. Sight Humpbacks, Orcas, Minke and Gray Whales; also view porpoise, seals and eagles. Or try fishing; catch Halibut, Ling Cod, Rockfish, Dungeness crab or Spot Shrimp. Trips depart from the Lopez Islander Resort. Lighthouse Tours and Kayak Trips are also available.
Call 360-376-3711
With ever-changing cycles of nature, each tour is unique. You will discover the excitement of meeting whales, eagles and more in their natural habitat. An unpredictable wilderness, full of surprises, is waiting just for you. You will never forget it!
Call 360-376-6566
Reserve a Day Charter, Sailing the San Juan Islands, on the Classic Wooden Sloop, "Aura", a Northwest treasure. Her classic beauty, roomy cockpit, and steady speed make her ideal for day sails in the San Juan Islands. The Aura sails from Deer Harbor on Orcas Island. Steer and pull lines as much as you want. Instruction and longer trips are also available.
Call 360-376-5581
Boat moorage on the North side of Orcas Island just outside of Eastsound.
Call 360-376-4477
Spice up your sailboat or yacht with custom built, made to order teak wood furnishings from Cruising Concepts. We've built companionway doors, tables, boarding ladders, even interior entertainment suite furnishings. Our specially crafted teak products include custom design options and accessory kits. Call Cruising Concepts today at 360-376-2975 and see what options are available for your pleasure craft.
Call 360-376-2975, Orcas Island
An adventure on the water awaits you! We look forward to meeting you, and welcoming you aboard the sailing vessel Tomahawk. We are family and kid friendly, or can cater to a romantic evening for two. Crabbing, fishing, and hiking are available for the adventurous. Three hour Day and Sunset Sails offered daily. Departures from Deer Harbor, Friday Harbor and Roche Harbor available.
Call 360-298-1023
Crewed sailing charters throughout the San Juans, Gulf Islands, the Inside Passage, Desolation Sound and the Great Bear Rainforest.
Call 360-376-3472
Shearwater Adventures has been offering a variety of sea kayak tours, instruction, and retail sales on Orcas Island since 1982. Over the years, we have introduced thousands of people to the joys of paddling in the San Juan Island. Our focus has always been sharing the fun of kayaking and the beauty of the marine environment. Shearwater uses the best kayaks and equipment available. We have a dedicated staff of qualified guides, and we know the islands better than anyone. Kayaking with Shearwater is a great activity to experience during your visit to the islands. Join us for a kayak tour for and a fantastic time on the water!
Call 360-376-4699
Robert Moran, Orcas Island's great benefactor, built the Moran mansion, which would eventually become the heart of Rosario Resort, way back in 1906. Today the renowned resort appeals to people with varied interests. Boaters who dock at the marina soon discover how much Rosario has to offer: a boat ramp, gas, showers, spa, pools, lounge, lodging, and groceries. It' s a starting place for kayaking and whale/wildlife tours. Dining ranges from casual to extra-ordinary.
Call 360-376-2222, Orcas Island
Premier crewed sailing charters in the San Juan Islands. Both six and twelve day guided charters available.
Call 360-671-5852
Olga Dock
Providing moorage, near local post office and the Cafe Olga & artworks, in the heart of scenic olga.

Hands on sailing lessons and private charters in the San Juan Islands, located in Olga on Orcas Island.
Call 360-310-0100
A 57 acre forested preserve on the coast of Orcas Island in the San Juan Islands boasting a small, state owned recreation site used for marine mammal study, kayak and small boat camping, and outdoor education through nearby Camp Orkila. Accessible only by boat.
Call 360-854-2882
Full service marina with store, overnight lodging, rental cottages. Also kayak, motorboat,and sailboat rentals available.
Call 360-376-2472
Eastsound Dock
Day moorage near village, summers only.

Cayou Quay Marina
Protected and convenient location in Deer Harbor on Orcas Island. Permanent Moorage in the San Juan Islands.
Call 360-376-4560, Deer Harbor, Orcas Island
Moorage slips, gas diesel, propane, haul out and repairs, emergency service, marina sewage pump-out station, float plane terminal.
Call 360-376-2314
A longtime destination and waypoint for boaters & travelers in the San Juan Islands. "Modern dock facilities, side ties up to 120", Guest overnight docking, Electricity and potable water, High speed internet access, Fuel Dock, Laundry & showers, Beach and Pool access. Visit the Dock store for groceries, espresso, ice cream, burgers, fish and chips, beer & wine, soft drinks, ice, bait, boat stove fuel, daily newspaper, t-shirts and some produce. FREE shuttle access to ferry and shopping.
Call 360-376-3037